Refilling: Shelves and displays are kept well filled so you sell more
Empty checkout shelves or display stands are missed sales opportunities… Overcome this problem by entrusting the restocking of your shelves, displays and racks to a Belgian specialist with more than 20 years' experience.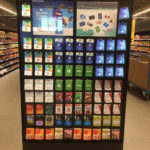 Good Display organizes daily restocking rounds to replenish numerous displays in retail spaces throughout Belgium. In all, our restockers visit more than 750 stores every 2 weeks. Refilling displays consists of topping up every kind of prepaid card display: mobile phone top-ups, SIM cards, gift cards (Amazon, iTunes, Google Play, PlayStation, etc.), and more. Many chain stores, including Carrefour, Match and Krëfel, trust us.
Refilling and logistics management
Do you want to delve even further into restocking? Then, like some of our other clients, you should also entrust us with the logistics management of your prepaid cards that are activated at the register. Don't worry about a thing: Good Display manages the stock at its own premises! One less worry for your teams…
Refill prepaid phone card displays at the register of department stores
Refill checkout shelves with iTunes and Google Play cards in supermarkets
Manage the logistics and restock gift cards in bookstores
Restock gift boxes at specific points of sale
Restock PlayStation cards in toy stores throughout the country
Good Display also offers effective services for point of sale signage, merchandising, retail space remodeling, as well as technical and logistical support.